KEY INFO >> ALWAYS refer to this RASCI Matrix for an overview of the journey and allocate the right resources for a Planet 4 implementation
The P4 Project Manager
The Project Manager (PM) takes directive from Project Sponsor, and oversees the migration to P4 from a project management point of view.
The Planet 4 PM should be a decision maker and is ultimately responsible for the successful implementation of Planet 4 in an NRO.
Being the main referent at NRO level, this person must be fully engaged in project, and cannot be active part of multiple projects happening at the same time.
Throughout the implementation, the Project Manager:
identifies the Digital Lead and Content Coordinator
manages and supports the Project team
works closely with the Planet 4 Implementation coordinator, aligning timelines and deliverables of the P4 RASCI Matrix
owns and maintain the P4 Drive and all the project documentation
manages relationships with Key Stakeholders (see below)
manages the budget
manages relationships with Vendors, contractors and Agencies
reports to the Project Sponsor / Steering committee
A full-time resource (aka 1 FTE = 40 hours/week) throughout the implementation is highly recommended; half-time at minimum.
Click here for a template of a P4 Project Manager Job Description.
---
The P4 Digital Lead
This person is the technical lead of the Planet 4 implementation, and acts as bridge between NRO IT, GPI dev team and project
A half-time resource (aka 0.5 FTE = 20 hours/week) throughout the implementation is highly recommended.
Throughout the implementation, the Digital Lead:
fully understands the NRO technology landscape and the role of Planet 4 as an Engagement System;
coordinates the Planet 3 content audit;
looks after content migration, management of the Planet 4 website;
looks after the archival of Planet 3;
acts as the main NRO trainer for Planet 4;
looks after the KPI & Analytics setup;
assigns P4 permissions & roles;
populates the site (web production), does QA of links and images;
Click here for a template of a P4 Digital Lead Job Description.
---
The P4 Content Coordinator
This person looks after the content that will populate Planet 4. Ideally with experience as a web content editor, this person must know how to write for the web, must be familiar with copywriting, SEO and storytelling.
A half-time resource (aka 0.5 FTE = 20 hours/week) throughout the implementation is highly recommended.
Throughout the implementation, the Content Coordinator:
supports the Digital Lead in auditing the Planet 3 content;
supports campaigners and other content producers in creating content for the new site;
creates content for evergreen pages, written inline with global GP Story as outlined by the framework;
validates content with the Legal Unit any applicable public information (copyright, privacy policy, "About Us" etc.);
populates the site (web production), does QA of links and images
Click here for a template of a P4 Content Coordinator Job Description
---
Project sponsor & steering committee
In every project, there is a decisional body. This can either be a single individual (aka Project Sponsor) or a group of people (aka Steering Group / Steering Committee).
Throughout the implementation, the Project Sponsor / Steering Committee (or related decisional body):
identifies the Project Manager
gets updated from the project Manager / team on the status of the implementation
takes strategical decisions on the product delivery
aligns stakeholders, including Management team
signs-off the Memorandum Of Understanding
signs-off the Go/No-go checklist prior to go live
allocates extra resources, if needed
Since Planet 4 is an Engagement platform, the decisional body should be part of the Engagement Department or driven by it.
---
Key stakeholders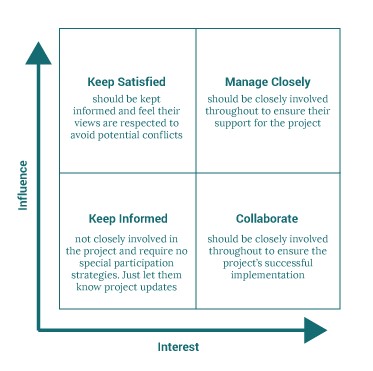 Making sure people understand what Planet 4 is and how it will affect the day to day of your NRO is important because from content creators to campaigners, the finance department to the legal unit, many in your office will have a stake in the transition to Planet 4.
The easiest way to understand what each person's stake is, is to do a quick mapping exercise. This doesn't need to take more than an hour or two.
Make a list of the departments in your NRO

Consider the list and ask yourself which people in each department:

Benefit from an engagement platform being implemented

Who might be adversely impacted?

Which departments might have to change how they work or what they output due to this shift in Greenpeace digital strategy?

Are there obvious supporters or opponents?
Use these questions to figure out who your stakeholders are.
Next, try to assess each stakeholder:

What is this person's expectation of the project?

How does this person benefit?

What resources might this person be able and willing to mobilize?

What interests conflict with project goals?

Place each stakeholder in the grid above:

The

managed closely

group should be people who are closely involved throughout. These may be budget holders or management people, and you feel you need to ensure their support for the project

The

keep satisfied

group should be people who have influence alongside or over the managed closely group. These people need to be kept informed and feel their views are being respected to avoid potential conflicts

The

keep informed

group are generally not closely involved in the project and, therefore, don't need much of your support. Just keep this group informed with general project updates.

The

collaborate

group might be your most important stakeholders. These are the people who will likely help you build Planet 4. They are content creators and developers, designers and copy editors. They should be closely involved throughout to ensure the project's successful implementation.
Use this template
Interest

*Keep completely informed*

– xxx

– xxx

– xxx

– xxx

*Manage most thoroughly*

– xxx

– xxx

– xxx

– xxx

*Regular minimal contact*

– xxx

– xxx

– xxx

– xxx

*Anticipate and meet needs*

– xxx

– xxx

– xxx

– xxx

Influence
---
Partner Agency & Contractors
In some cases, the intervention of a partner agency or external contractors may be needed. These partners usually fulfil roles where capacity lacks or resources are ot available in the short term, this is why they need to be on-boarded quickly and effectively.
Please add your template here!
---
Links and resources