The Roadmap
Planet 4 was live for the first time at the beginning of 2018 on version 1.0. The improvements made since then are grouped in the #Updates page.
V1: Beta / Prototype version

NOW >>

Version 2 (V2): See your impact and follow P4-powered campaigns

P4 Campaign Generator (P4CG)
Engagement features ("See My impact" / "Follow this Campaign")
Tech Upgrade (Gutenberg / ElasticSearch / P3 Archival)

V3: Personalisation
V4: Visualizing Impact
V5: Let's get social
V6: Let's get local
V7: UGC (User-Generated Content)
---
Co-develop P4
Planet 4 is 100% open source. If you would like to get involved and show us what you've got, you're very welcome to join us.
Every coder can contribute to the success of P4 by joining forces to code features, review plugins or special functionalities. The help of Greenpeace offices with extra capacity and of the open source community is most welcome!
---
Request NEW – Vote P4 features
The page "Improve P4" is dedicated to product co-development, this MEDIUM post describes the process and this Video shows how a feature request makes its way to the Product roadmap (basically the graph below applied to real life)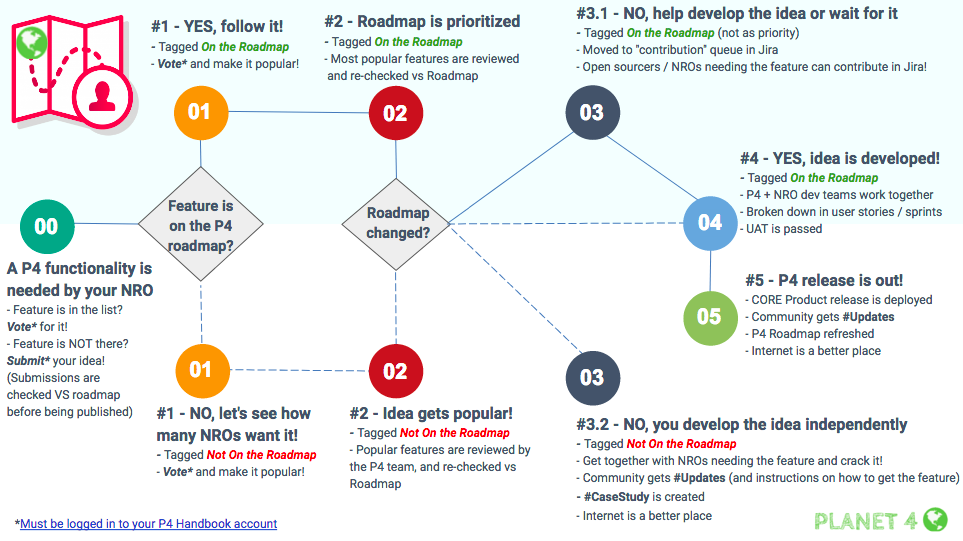 ---
Build Documentation
This Handbook is made with you, for you. You are free to improve the quality of this website at any time.
---
Exchange talent
P4 will ultimately replace more than 40 Planet 3 websites, 9 WordPress websites and 1 Drupal 7 portal. Such a global penetration of our platform implies a solid pool of practitioners, whose skills can and should be exchanged between offices.
National and Regional Offices (NROs) facing digital challenges, needing capacity to implement P4 or in need of short-term coverage should be able to host staff from other Greenpeace offices, and should be open to let folks go and spend some time abroad.
Beside retaining and developing in-house capacity, these international exchanges allow our people to see how Greenpeace operates in various contexts, contributes to building relationships and stimulates personal and professional growth
Do you need a P4 professional in your NRO? Check the interactive systems map (accessible to GP staff only – for privacy reasons), this will give you an overview on who is using P4
Do you have questions about how talent exchange is possible? (secondment? freelance?) Please contact the P4 team. They are here to help.
Are you looking for opportunities in NROs? Check the LinkedIn openings or contact the P4 team. They are usually aware of P4-related opportunities..
---
Train your colleagues
This Handbook has a lot of information, but you really need 3 things to get trained in P4: Video Tutorials, documentation and time to exercise (in your staging site!).
Here's what you need, depending on what you will do with P4:
For content editors
For website administrators
For implementers
For SysAdmins and developers
For data analysts and analytics folks
Do you want to join a P4 training session? Check the P4 calendar (accessible to Greenpeace staff only) or contact the P4 team.
Do you want to train colleagues on P4 or record a new video tutorial? You're amazing. Please contact the P4 team.
---
Links & resources
Handbook
Video Tutorials
MEDIUM
Community resources