👇 KEY INFOs 👇
A P4 Admin must create your profile and give you access before you are able to edit your P4 profile.
To have their stories / blogs /articles migrated from P3 credited in P4 authors must have the same P4 user ID / name of P3!
For your Author Profile to appear on your Posts you must add a Bio, a profile image is optional.
The Author's page will be linked only if you choose the name from the dropdown list of authors. 
In case of Author Override (Create Posts > Author Override), the author's name will be there, but it will not be clickable / linked to the author's profile page…
---
---
Edit your Profile Image / Avatar
On top right of the page, click on "Edit my Profile"

You will access your user settings menu, where you can change the appearance of your WordPress console, add shortcuts, change your name and surname (you cannot change the username or the email!).
TIP! If you are managing multiple WordPress or P4 websites, different menu colours are super useful to quickly realise which site you are working on.
See the red menus of the snapshot below? It's a color scheme called "Sunrise"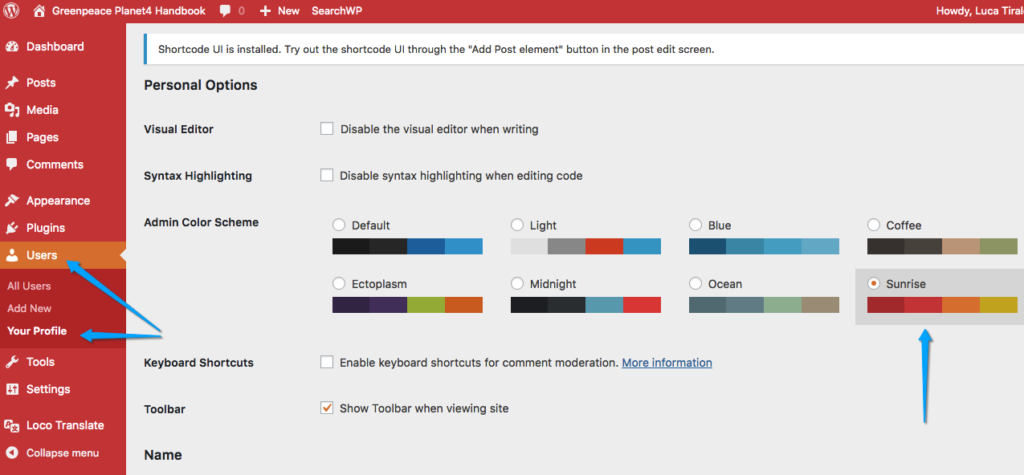 You will also be able to change your Profile Picture, but not in the standard way.
For security reasons, all Greenpeace accounts are connected to the organisation's Identity Access Management (IAM), therefore profile images are connected to employees' Google Accounts
To edit your profile picture, click on Gravatar

Click on "Sign in" (top right)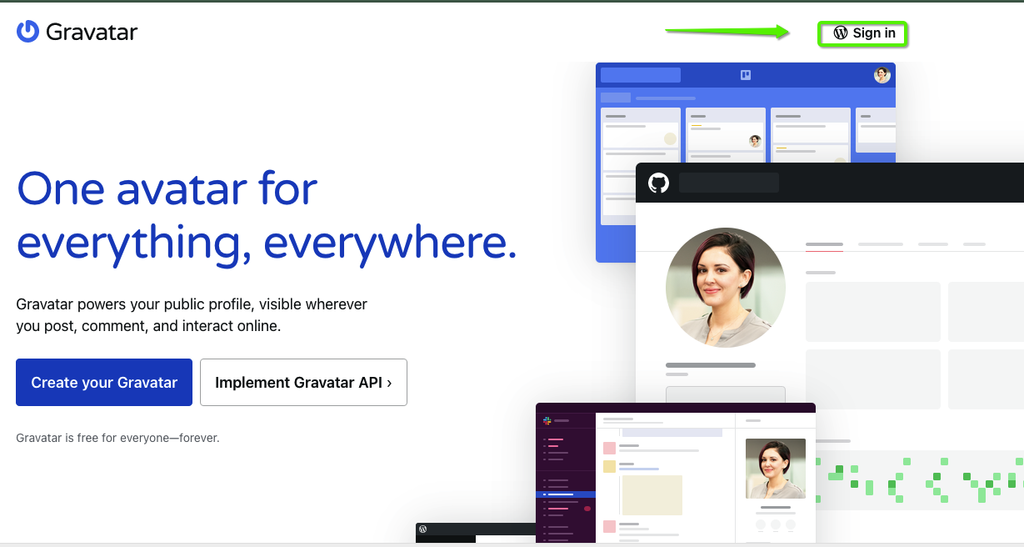 If it's the first time, click on "Create an Account" and, by using your short GP email, you will be able to set up an avatar.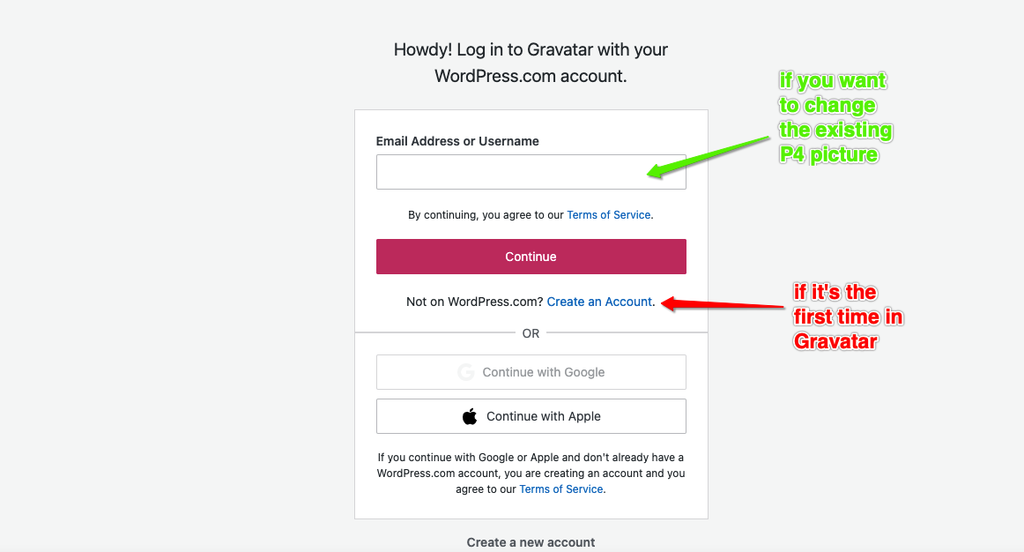 Continue the registration with your Google Greenpeace Account (this must be your short Greenpeace email!)
For any future avatar change you would just need to login in Gravatar and upload a new image..
Your Gravatar account is now linked to your Greenpeace Google Account. You can add or edit your profile image
You can even upload multiple images and pick the one you like most
Done? Click "My Profile" to check if everything is ok, then click "Save Profile"
Go back to Planet 4, refresh and enjoy the new profile picture, you superstar you
---
Edit your Bio
You bio is editable directly in Planet 4 > Users > Your Profile > About Yourself.
---
Translate your Bio (for multi-language sites)
For multi-language P4 sites, it is possible to translate authors' bios:
1) Go to WPML's > String Translation and add authors as translatable strings

2 ) Go to WPML's > Theme and plugins localization. Scan the template for translatable strings, this should collect the authors strings for translation:

3) Go back to String Translation and edit the corresponding author bios: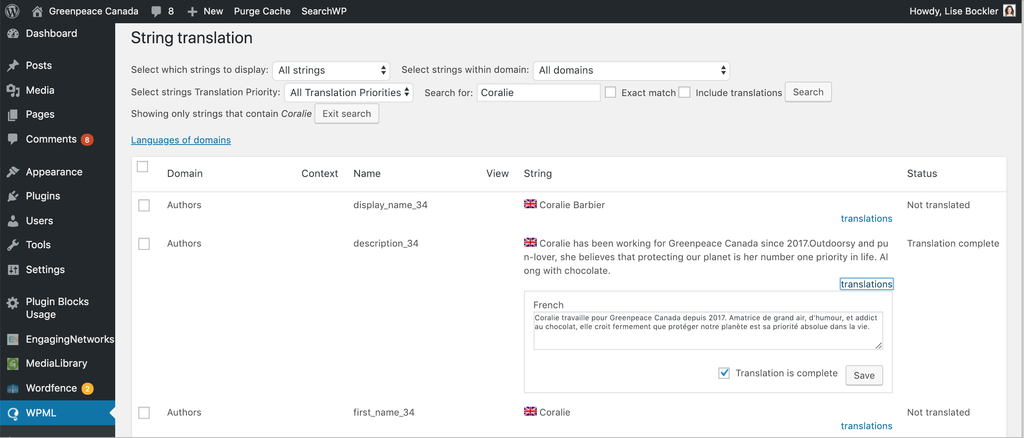 4) Enjoy your new translation.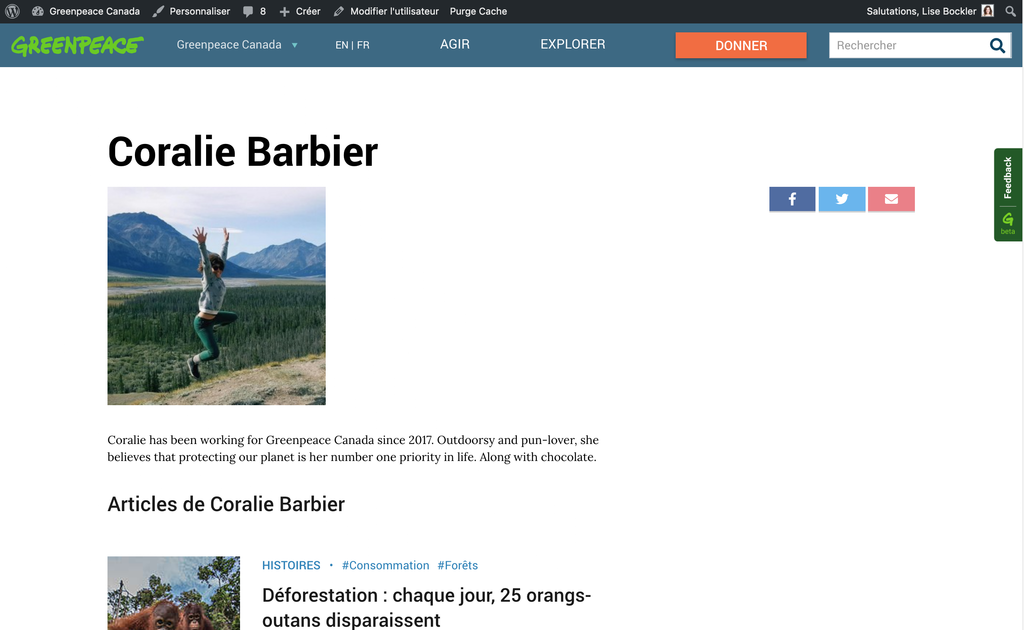 KEY INFOs 👇👇
For the language switcher to show, the author must have written posts in both languages
Authors should have their bios in both languages to appear
if YOU translate a post to test this, remember to change the post's author to the corresponding author, otherwise, the translated post will belong to "admin", your user
Here's also a snaggy .gif with the final result:
---
Check your profile!
You can always go to any post you wrote and check how your Bio at the bottom of the post looks. Like the guy below that thinks he's the only one good at cooking peperonata

---
Editing an Avatar for someone else
If an Editor cannot/will not change the Avatar themselves then an Admin can do it for them. The downside to this is their User account will no longer be associated with their personal email address and thusly they will no longer get email notifications for comments on their posts. We strongly encourage you to have the Editor update the Avatar themselves.
As an Admin: To change an Editor's Avatar you must use an email address to which you have access in order to complete this process (see step #10).
WP will not allow you to use the same email for multiple users. So as a Admin I would use, for example, my webmaster email + User's Global ID e.g. [email protected]
Go to the User Profile in P4 and generate a new WP PW
(don't worry, the Editor should be using their Google/GP login, not WP. So you will not be locking them out)
Make a note of this PW + the User Name of the Editor you are working on, then Update User/Save
Sign out of P4
Sign in as the User, using their User Name + the new PW you generated
Go to 'Profile' in the left nav
Click on "You can change your profile picture on Gravatar."
Sign in to Gravatar
Click on 'Add Email address' and enter the new address you created in step #1
Go to your email and click on the link to verify the new identity
Go back to Gravatar
Choose the email address you want to modify
Click on 'Add new image'
Click on 'Upload new'
Click on 'Choose image'
Click on 'Next'
Crop/centre image
Set rating (in case your Gravatar may not be suited for younger or sensitive audiences. ? )
Select where (which email) you would like to use the image
Return to P4 and refresh to confirm.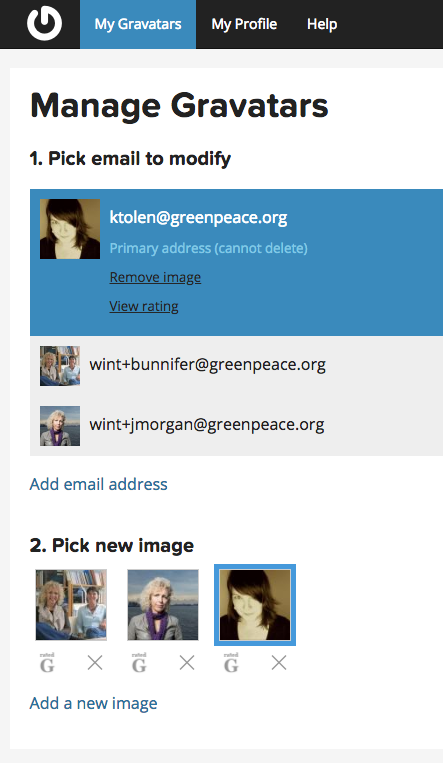 ---
Links & Resources