As part of the preparatory phase, each implementing office will have to assess the current status of the Google Analytics account (usually being a sub-account or view of the "Greenpeace Planet" – UA-57175-1).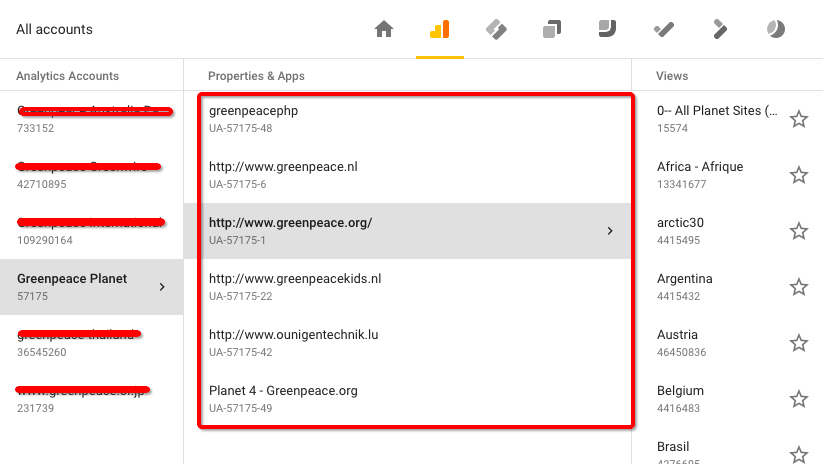 Why evaluate the existing account?
The purpose of this exercise is:
recommend the way forward to track the P4 standard KPI set– choosing between

maintain the existing property (and 'clean it up'!)
create a view in the new global P4 Account (UA-10290164)

recommend the exclusion of IP Addresses:
identify new goals and events to be setup
identify new cross-domain tracking to be setup
assess Google Analytics account permissions
identify the Google Tag Manager container that will be connected to P4
---
Perform the evaluation
Starting from the evaluation done by GPI during the P4 Design, each implementing NRO must produce an assessment and upload it in the respective Planet 4 drive, indicating:
The ACTIVE Google Analytics ID and view ID
The ACTIVE Filters used
The yearly total views and traffic
The last / average 30 Days Hits
The type of events actively tracked
The type of goals actively tracked
Main challenges for polluted statistics
Any relevant custom details (triggers, channel grouping, content grouping, etc..)
And here a few completed evaluations (you can totally duplicate the template and add it to your P4 Drive!):
---
Which KPIs to track in P4
During the Discovery phase a set of KPIs (Key Performance Indicators) was identified, and during the Concept, the methodology to extract those wrapped up. Having a standard set of KPIs (and a common way to extract them) will allow offices to "compare apples with apples" (in some cases, P4 vs P3 performances) and finally benchmark across Greenpeace web presences.
Here's the final list, split by "Breadth", "Depth"and "Open" engagement areas (check the methodology to extract them):
Breadth KPIs:
1. Bounce Rate by Channel  
2. Funnel Conversion by petition
3. Funnel Conversion Rate for volunteering
 4. % New Users to Site
5. Funnel Conversion Rate start a petition
6. Funnel Conversion Rate for donation
7. Bounce Rate by page
8. Total sessions by channel / source
9. Conversion Rate for petition
10. Total Users / Unique Visitors
11. Web performance trendline (basic aggregate p/period)
Depth KPIs:
12. Scroll Depth
13. Page Depth
14. Visitor Frequency
15. Visitor Recency
16. Time on page by mobile device / OS
17. Most popular tags
18. Visitor Action/Conversion Frequency
19. Members Returning for Action (MeRA)
Open KPIs:
20. Number of New Blog Posts (by non-staff / Change Agents)
21. Social Sharing ratio
22. Total Comments per Day / Month
---
P4 Analytics Suite
Links & resources