With just 2 items in the global navigation ("Act" and "Explore"), and 8 in the footer navigation ("About", "Jobs" and "Privacy Policy", among others), the theory behind this approach is that through consistent CATEGORIES and #Tags, users will access content they're interested in quickly, naturally and easily.
This is called "organic navigational structure", and represents one of the innovative features of Planet 4.
In today's web, people tend to "go down the rabbit hole", floating in and out of content based on links and tags as opposed to global navigational structures, such as the "old style" – Who we are | What we do | Get involved | Contact –
KEY INFO >>  organic navigation facilitates access to semantically-related topics based on user's initiatives, and not on an enforced, structured navigation
---
CATEGORIES vs #Tags
Understanding how the user navigates the site is extremely important for all content editors, creators, campaigners and admins. In Planet 4 there are two types of taxonomy features: Categories and Tags. Understanding the difference and how to use each is absolutely essential to ensure that our web visitors can access the content they want.
>>> CATEGORIES are used to represent the issues/baskets AND/OR a post type (press release, publication or story). Content can have multiple Categories.

>>> #Tags  are used to recognize campaigns or topics within a broader Issue. Content can have multiple Tags.
Planet 4 envisions a tagging taxonomy that considers semantic similarity / ambiguity at campaign level to make sure users find content related to each other. This means we do not use actual campaign names, but rather generalized tags for the topic a campaign is addressing (see the examples below). It is ok to have more than one tag. But tags MUST be campaign related, so only include multiple tags if the piece of content is in use across multiple campaigns.
It seems simple, but here's the catch: we should always have a limited number of tags. As an organisation that produces a lot of content, we need to learn to associate similar topics together to make this organic navigational structure work.
The "out of the box" Categories and Tags for the Greenpeace International Prototype are:
Categories

Tags

#AboutUs
SHIPS
#ArcticSunrise

#Esperanza

#RainbowWarrior

ENERGY
#Coal

#Oil

#EnergyRevolution

NATURE
#Forest

#Food

#Oceans

PEOPLE
#Climate

#Consumption

#Health

#Peace
You can see how global projects fit under this taxonomy here.
---
Using Taxonomy correctly
Let's look at an example using both CATEGORIES and #Tags correctly:
Let's say we have a campaign running in which we ask supporters to help us establish a sanctuary in the Arctic Ocean via a lawsuit versus the Norwegian Government. We add the "PEOPLE" and "ENERGY" categories to all associated content, but what about tagging?
The theory behind our navigation is that if a user is interested in the Arctic campaign (which tackles Fossil Fuels exploitation), they are probably interested in other Oil campaigns. We do ourselves a favour by calling attention to #Oil or #Climate in general. Also, should there be one of the Greenpeace ships involved in this campaign, we may add the #ArcticSunrise tag as well,  to allow users to find content about our ships…
Because P4 also surfaces content based on time and date, the newest content from the current campaign will always be accessible first.
If you choose not to follow this advice, please be advised that tags need to be edited (rather than added) when a new project addressing a particular issue is established.
---
How to write Taxonomy
Categories:
are displayed all with First Letter In Caps
use ampersands ("&") instead of "and"
allow spaces between words
Example
#Tags, on the other hand:
use camel case (each word is capitalized)
do NOT have spaces
require hashtag (#) in front of tags.
#ThisIsAnExample
A visualization of how Categories and Tags (and Take Action!) may interact with each other is a great way to determine your NRO Taxonomy.
---
Create your P4 Taxonomy
1) Map out the current Issues and campaigns your NRO is working now or will be working on when you launch P4
2) Visualize them on a board, using colour codes for take Actions that may belong to one or multiple Categories, Tags and Take Actions
check the visuals below (from our New Zealand colleagues)
3) Insert your taxonomy and create your P4 Sitemap in the Content review and migration Spreadsheet
4) Assign Categories & #Tags to the content you wish to migrate in the content audit
5) Assign Categories & #Tags to content you need to re-write or create from scratch
6) Be able to change and adjust on the way
7) Repeat steps #3, #4, #5
---
Set up Taxonomy in P4
Set up Categories
As an admin, go to Pages > Categories and create your set of Categories.
KEY INFO >> to trigger the Issue page < > Category relationship, CATEGORIES must have one Parent category (see "THE ISSUES WE WORK ON" below?)

Each Category must have a name, a slug, a Parent category and a description (see Navigation & main pages for more info)
KEY INFO >> to lock the Issue page to a CATEGORY, the page title and the slug MUST be the same for both the CATEGORY and the Page!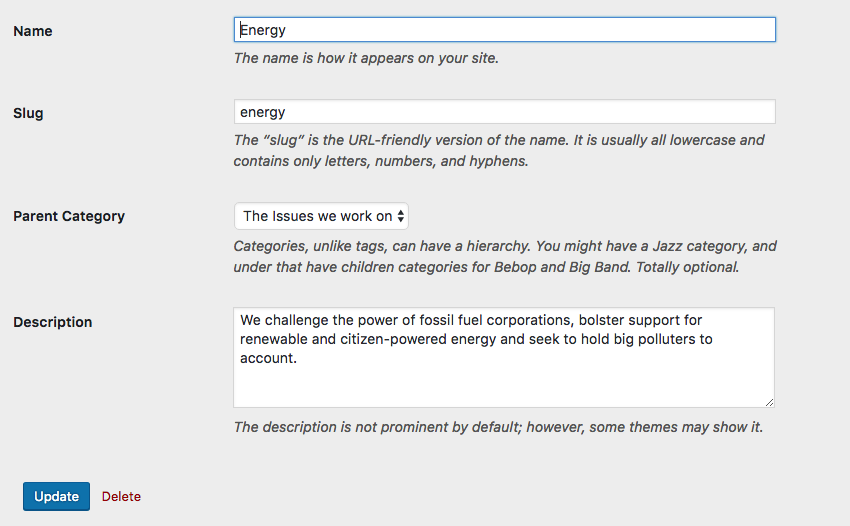 Need to learn more? Check Navigation & site architecture
Set up #Tags
As an admin, go to Pages > Tags and create your set of #Tags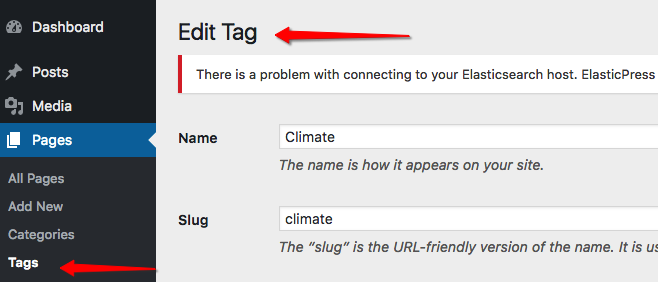 Need to learn how to customize#Tag pages? Check Navigation & site architecture
---
Links and Resources