With the EU's General Data Protection Regulation (GDPR) coming into effect, the P4 team decided to go one step ahead, developing a "Cookies control" feature, allowing users to have complete control over which cookies to accept in any of the P4 sites.
⚠️ KEY INFO –> Please read this Medium Post and watch this 5 minutes video to fully understand the new P4 Consent Mechanism. The Tag Manager setup is also available in gitbook.
This block should generally be used in the "Privacy & Cookies" pages (see Legal check), and makes the cookies management in our P4 sites 100% compliant to the highest web security standards.
---
Add the block to your page
Users will be presented options to disable Necessary cookies (aka First-party cookies, the same for all P4 sites), analytical cookies (only if enabled in P4 Settings > Cookies) and other cookies, which depend on which 3rd party cookies you will have installed in your P4 site.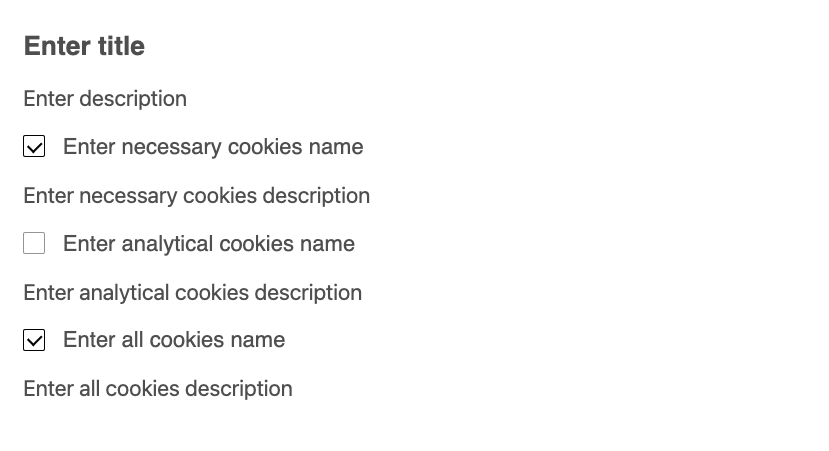 And below the texts we decided to adopt for cookies block of the International site: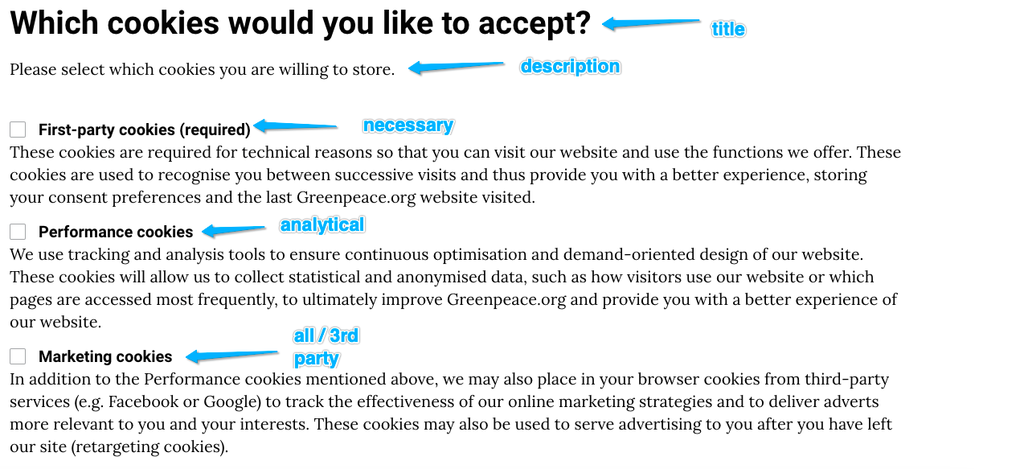 It is mega important to carefully describe all the three types of cookies you are placing in people's browsers. Please read this Medium post and watch this video.
1 – Not accepting the strictly necessary cookies will, of course, make the cookie message appear in every screen
2 – If a user accepts 2nd or 3rd checkbox, the system will automatically accept the Necessary cookies
3 – All EU NROs must enable the "Enforce Necessary cookies" setting (Step #2 – below) – for GDPR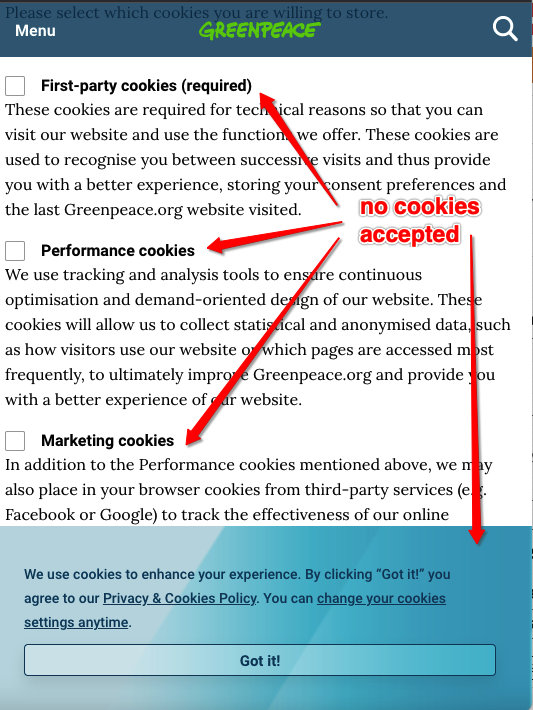 Check the .gif below to see the block's behaviour in real-time.
---
Cookies settings
See also at Planet 4 Settings > Cookies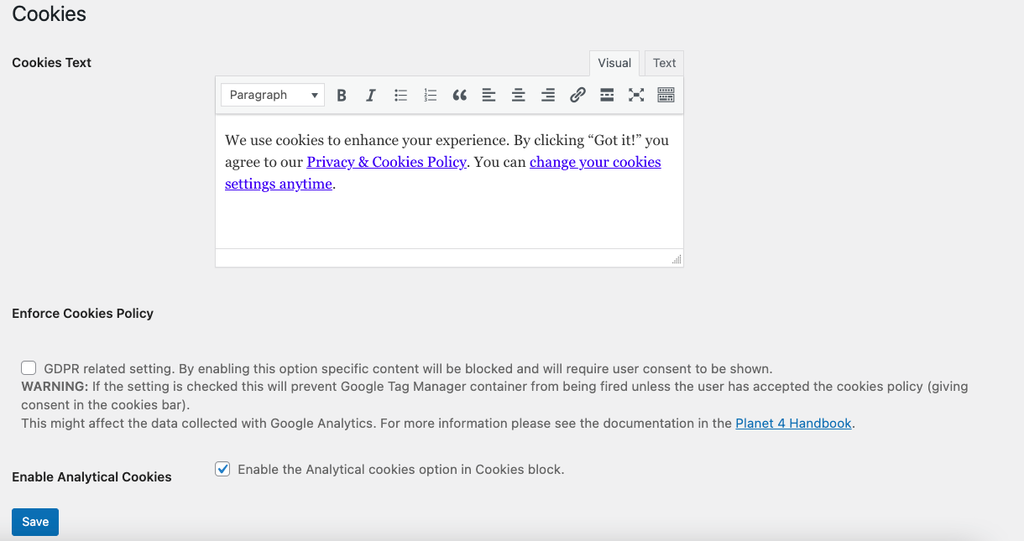 Please keep reading to understand the behaviour of the cookies block in combination with the Tag Manager setup.
---
Understand Planet 4 Cookies
The P4 dev team created two 1st party cookies that will help us to understand and record the user's preferences. Please check the Tag Manager setup to learn more.
Those cookies will be used inside Google Tag Manager to create specific triggers:
User flow and cookies:
Instead of avoiding Google Tag Manager to load before user consent, we have taken a new approach. By disabling the "Enforce Cookies Solution" (on WordPress) we are able to control what types of tags are going to be fired based on user preferences. 
The user flow proposed below will allow us to track statistical and anonymized data for our analysis, while still being compliant with GDPR.
(!) Important: Before applying this setup to your live website, please make sure that you have done your due diligence and verified this setup against your local legislation for cookies and privacy. There may be local variations as to the interpretation and implementation of GDPR and other rules with regard to cookies.
Here's the cookies flow in a Google Drawing:
Check the video below for a quick overview on the new P4 consent mechanism
---
Google Tag Manager Setup
Please check the Tag Manager setup in gitbook to learn more.
---
Design Elements
All design files of the block are available in the P4 Design Systems > Blocks > Cookies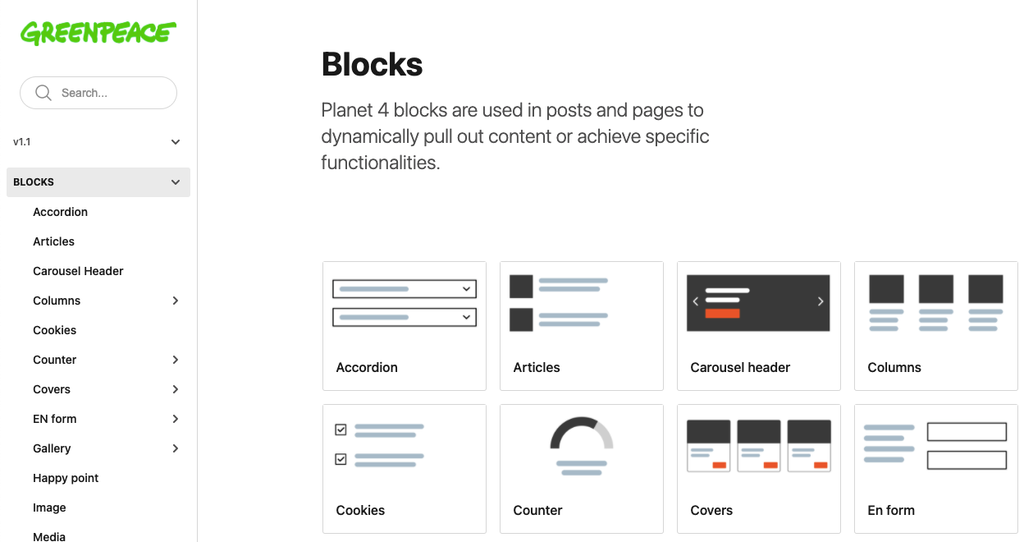 ---
Links & resources