The P4 community of practitioners is the ideal space to gather and retain knowledge, join forces to innovate and empower talented folks across the Greenpeace world and beyond.
House rules
Want to be part of the gang? Amazing. Just keep a few things in mind:
be ready to contribute, but don't expect everyone to do it in the same way you do;
be open minded. We are all different, unique and amazing people;
be civil and respectful about what you say and how you say it;
try to get out of your comfort zone. No one is here to judge you and there are no stupid question;
take it easy, we are here to learn and grow both personally and professionally;
---
Join
P4 practitioners include Greenpeace staff, partners and volunteers working across departments and timezones. We are all using the tool to engage, mobilize and change the world.
Some of us are web editors, some developers, some are data analysts, some designers, and some of us are a bit of all these things. Just decide how much you want / can be engaged, and how.
Be a subject expert, a P4 enthusiast or an invisible ninja, but please don't be a hater, life's too short to be a hater.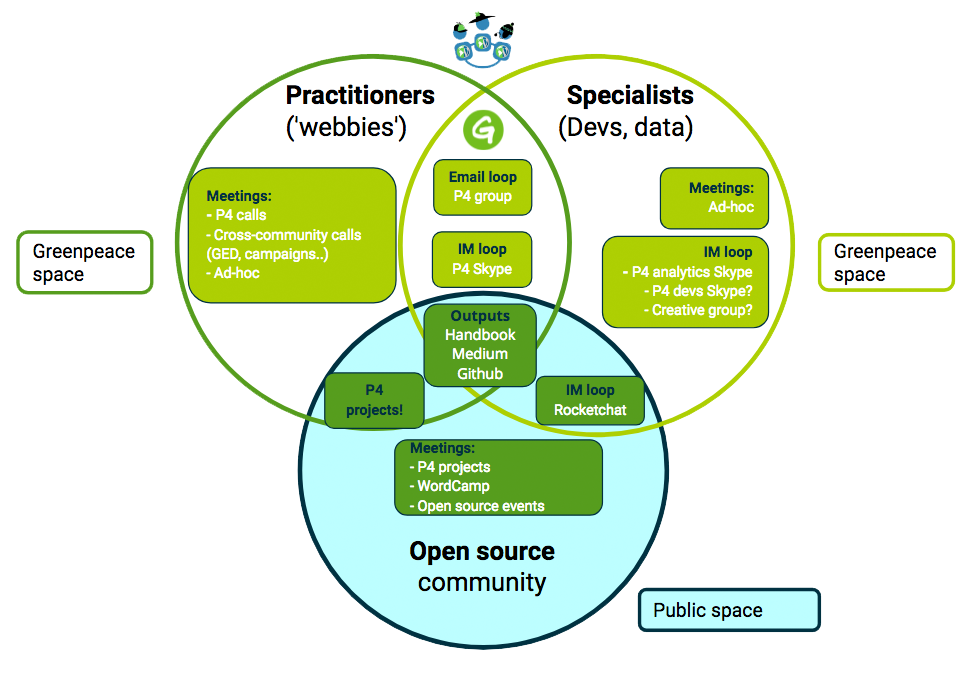 A snapshot of the vibrant, multi-faceted and creative P4 community of practitioners, and their interactions spaces
---
The Greenpeace gang
Do you want to know which of your colleagues works on P4 in the NROs? Check the interactive sitemap! (accessible to Staff only – for privacy reasons) and start to get to know the Greenpeace pool of practitioners.
There is also a P4 international product team ready to on-board you in the community, they are Andrada (implementation support), Koyan (tech lead), Julia (data specialist), Lilian (scrum master), Luca (community manager), Mark (product owner), Natasja (project manager) and Will (design lead).
Want to get in touch? Just reach out via email.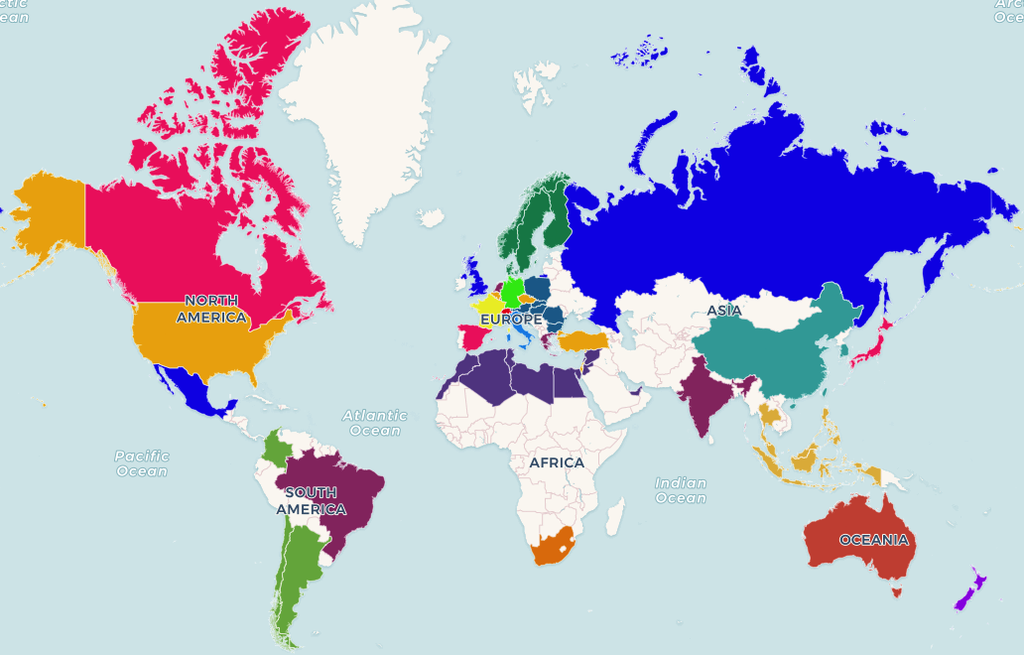 ---
Channels
During your P4 implementation, all project members will be added to the Greenpeace P4 Google Group (P4-Group) and Skype Chat (#GPP4), feel free to use these channels to ask questions, share knowledge, give updates and sparkle new collaboration initiatives around P4.
A Jira board and Rocket.Chat are also used for sprint planning and product development.
A gihub repo holds all codes, PR and data sets to start Develop p4
A MEDIUM publication is used to blog about product development and involve Open Sourcers
This same Handbook is the main repository of all P4 documentation
Want to join / be added to any of these channels? Just reach out to the team!
---
Community calls
Our calls are open source and documented at – http://bit.ly/GPCommunityCalls – do you want to propose a topic for or run the next community call? Please contact the P4 team!
2020
---
2019:
2018:
---
Partners & Open Sourcers
Wow. If you are reading this it means you are willing to help Greenpeace to make the world a better place. First of all, thank you.
---
Links & resources
Handbook
Videos
MEDIUM
Community resources