The P4 Roadmap
Planet 4 was live for the first time at the beginning of 2018 on version 1.0. The improvements made since then are grouped in the #Updates page.
---
Request NEW – Vote P4 features
What you see below is a public list of what is being planned to be released (prioritised based on the P4 Roadmap).
There's a good chance that the feature your NRO needs is already in the list, but if not, you can submit your idea / proposal (while logged in this Handbook*) and shout out to the community to see how popular it becomes!
Read this Medium post for the full narrative or see "the co-development process" below to know how an idea makes its way to the release and how you can help develop it!
*.. need a Handbook account? Send us an email!
Request a new P4 feature
Login
0

/2000
---
Shared development process
Here's how the ideas above made their way to the core product, both in an image and a bullet point list. You can (should) read our post about the co-development process to learn how this is done.
---
Data-Driven improvement
To continuously improve existing features and integrate new functionalities, the mantra of the P4 team is "Testing before developing".
The schematic below highlights how this is included in the development process, and for more details please check the Medium post improving Planet 4 with A/B Testing and the Set up A/B testing Handbook guide.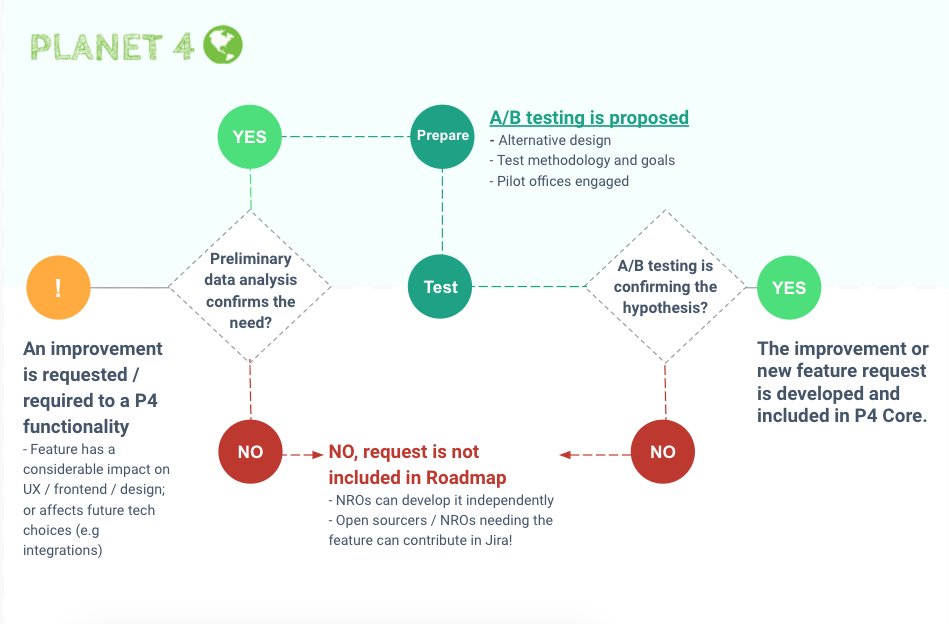 ---
Video: demo of a feature request
Still unclear on the process? The video below may help
---
Links & Resources
Handbook
MEDIUM
Video
Docs
Google Forms