Last week we made a post about forest fires in Turkey. We updated the page regularly with the latest news inside the content so people can follow the news from our page.
You can see it here.
In a regular post, published date is shown at the top of page. That's fine for regular posts. But is it possible we can also have some switch option inside admin panel like if we choose to show the latest update time, it will be shown near the published time? Example below to demonstrate how it seems when it is live.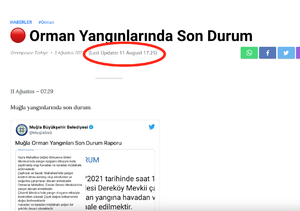 This would be a good feature to have when we need to create a live and responsive content inside planet4.