Learn about, build, import and customise uniquely branded campaign pages inside P4.
Learn more
With the team focused on preparing the P4 Campaign Generator community calls of next week and wrapping up the Archive integration, the week #7 of 2020 brings in a tiny niny release.
As of today, though, the P4 Campaign generator is way more user-friendly and intuitive than ever.
---
📣 P4 Campaign Generator (P4CG) improvements
PLANET-4603 – Migrate Campaign configurator fields to the sidebar

No need to fiddle with CSS or check the colour code of each Campaign theme, from now on, changing the theme on the first command will automatically update the entire campaign page (and all its blocks) with the Campaign specific theme (see .gif below), making the creation of pages like the Climate Emergency, the Ocean Declaration or the Australia Bushfire one-off donation ask quick and easy.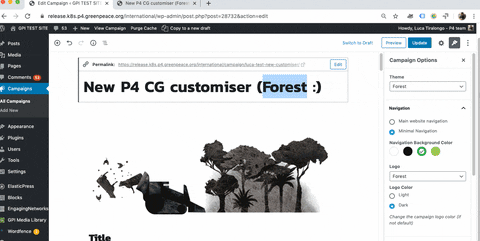 🐛 Bug fixes
PLANET-4688 – Carousel Header MENA: Double-check all possible interactions
---
🛠️ Tech improvements
PLANET-4532 – Perf: Investigate lazy-loading solution across P4 (incl. all browsers)