P4 is an amazing adventure, and a beautiful teamwork. Here a little feedback by the Canadian team, the (P)4 warriors, Sarah, Jake, Marine and Lise :
Be sure you also have a look at India, Netherland and Greek colleagues feedback, we had very similar issues or tips we don't repeat here (cause you know, we try to keep it short)
Intro and round of applause :
The product is amazing and the P4 team… well let's not use all our beautiful words yet to thank the gorgeous team who helped us get this massive project running with an un-tiring positive energy. Yep, let's distinguish shiny success and improvements points you, lucky NRO on your way to the P4 adventure, could implement or anticipate to make this be the best digital experience of your greenlife.
The 7 keys
1. Global, clean and shiny tools: take your chance to go brand new and rethink from scratch your digital tools organisation internally meaning :
how can you work better together,
which new tools would you like to implement (NOW is the moment)
who will be in charge of what task,
and most of all how to adapt all your wording and tracking to fit the international GP convention without loosing your specificities. This challenge is the most interesting and crucial to see your digital impact reflected properly nationally and internationally
2. Prepare, repair, beware
Preparation phase: Analyse ALL the traffic of your website. Do not only focus on blogs but also your campaign pages, Q&As and relative links. You will be surprised to see which pages really interest the visitors and take the opportunity to make new content out of it. Don't guess but analyze and create.

Experience : we only focused on migrating important blogs and create new campaign pages. But we found out after migration that many interesting pages not categorized as "campaigns" or "blogs" were forgotten. We decided to create new content in Phase 2.
Production phase: Try to plan a longer production phase to be comfortable and avoid last minute big rush (don't worry, you'll rush anyway), this is when you really start to own the product, find out bugs, have crazy improvement ideas.

Experience : we understood during that stage that we would not have time to implement everything we thought crucial. Our manager made a very good job selecting the "blocking" issues and prioritize realistic tasks. For every cool ideas impossible to implement in time, document them for *Phase 2* (the only way to avoid frustration).
The launch: we choose to first have a soft launch to get internal feedback and improve the website before the hard launch, 10 days later.

Experience : this was a smart move because we wanted to stick to our launch date (only postpone 1 day) but really needed more time to fix a few tracking set up, to involve our colleagues and implement their precious suggestions. It was appreciated by the team and very useful for us.
Phase 2 and ongoing improvement: this is the heaven of ambitions and opportunities.

Experience : the launch, is only the begining of the trip. We still need to set-up many things, analyse the traffic, it's an ongoing work to keep the website alive, make it every day better and engaging. Be sure you have someone working on it, analysis the impact, testing new features and comparing results with P3 plus starting to use Google Optimize inside P4.
3. Unicity : you may need to adapt several setup according to your specific needs
Don't underestimate your ambitions on GA and GTM out of the basic setup provided if you use external tools as Engaging Network, external donation pages (Ecommerce) or have a bilingual website – you will need time and capacity to set-up specific triggers, tags, etc.

Experience : We had a very clear vision of what we needed but we really missed a complete dictionary of all GTM tags (coming soon on the handbook) and most of all we missed an internal master of Analytics to adapt the P4 basic GA and GTM that was not fitting our specific needs. We felt we didn't own the product because we didn't know it enough. We had to ask for last minute support and are still working hard on this after the launch. Now it's our beloved baby – even if we're still not sure about the father.
If you adapt tools you are using or use new ones : this will really affect related methodology you may have. For example : changing to UTM Burlo tool needs to adapt EN tracking methodology and GA reporting, be sure you use the same naming everywhere (EN, GA /GTM, BURLO, P4…). Be sure you dedicate the necessary time to figure out what is crucial for you before/after launch and if you have the resources to work on these tools. If not ask for it ASAP.

Experience : We found out too late that our tags where not matching Burlo global convention and that we had to manually define the theme of every Engaging Network page. It was hard to force a coherency. Better rethink all your naming beforehand.
4. Translation: 
if you plan to have a multilangual website, choose the best translators, internally if possible.

Experience : We were not satisfied with the first shot and had to re-brief our external Translators + book a colleague to go through every piece of text. It was last minute, time consuming but crucial.
5. Communication : stick to the essential weekly P4 calls, daily heads up and morning P4 coffee chat. No secrets allowed, it's the best pyjama party.
"1 pour tous et tous pour 1"

Experience : We were a small but very complementary team. We all had a role assigned and we communicated on every task as they are mostly transversal. It happened we switched roles according to capacity. The management was excellent both inside the team and P4 team, a good structure an a realistic and human approach made this a success.
6. Learn and Share : As good student we'll repeat it too, the Handbook is your best friend. And as best friend, you can always suggest some clarifications.
Get involved !

Experience : Our struggles and "silly questions" also helped identify some errors in this majestic bible >> Your input is crucial and makes the participative project grows ! So ask for help when you are stuck, you'll learn or we'll all learn.
7. Be happy : you'll never see P3 again.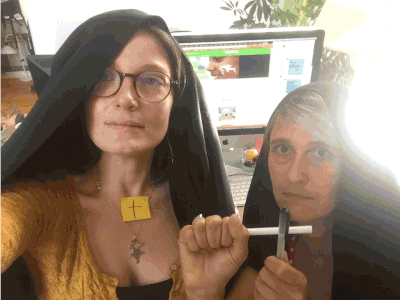 Have fun,
Lise, Marine, Sarah and Jake.